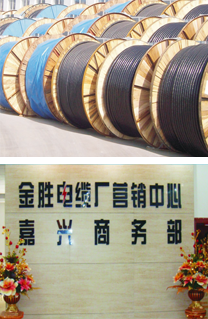 Jiangmen Xinhui District Jinshengdianlan Co., Ltd. is a large private enterprise specialized in development, manufacturing, sales, and innovation, company is located in Xinhui District of Jiangmen city will Meijiang Town Industrial Park, the company covers an area of 25000 square meters, traffic developed, beautiful environment.
the company since its inception, always adhere to the "gold quality, wins in the intention of making" business philosophy and innovative ideas, to create excellent quality products to their. With excellent quality and good reputation won the social from all walks of life and the user's consistent high praise. Jin Sheng cable through
"national industrial products production license", "ISO9001:2000 quality system certification", "national CCC mandatory product certification", "international standard product certification", "burning performance rating logo authorized the use of"
certification authority certificate. And
"Guangdong Province BrandName"
"China quality tour"
certificate.
the company has a number of advanced production equipment and sophisticated detection equipment, to ensure strict quality. Wire and cable production are: 35KV and below power cable, control cable, flame retardant cables, fireproof cables, shielded cables, branch cable, low-voltage wires, communication, signal lines, waterproof cable and other dozens of series, thousands of specifications. Product according to national standard
(GB) International Standard (IEC) and the Ministry of machinery standards (JB)
. The process detection strict and rigorous factory testing production. Customers have cable special needs, we can provide professional advice, the intention of manufacturing.
the company has been adhering to the "quality win gold, in the intention of making" business philosophy to "innovation and development" "professional, focused, concentrate on" service for the purpose. Continuous innovation in the fierce market competition, to the community and the general user to create brilliant, makes the contribution for the national electric power industry.